AEGYPTUS - 2012 - 1
digital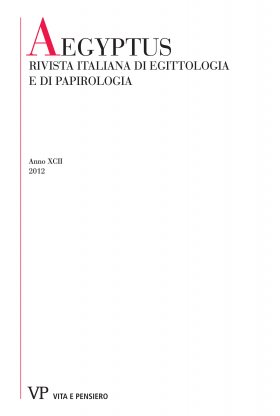 rivista
AEGYPTUS
fascicolo
1 - 2012
titolo
AEGYPTUS - 2012 - 1
editore
Vita e Pensiero
formato
Fascicolo digitale |

Pdf
Ebook in formato Pdf leggibile su questi device:
Fascicolo annuale
SOMMARIO
Mein Haus ist leer!: Enteuxis gegen die eigene Frau. P.Vindob. Barbara Inv. 34
di Rosario Pintaudi, Hermann Harrauer
pagine: 10
€ 6,00
Abstract ∨
Edition of P.Vindob. Barbara Inv. 34, an enteuxis from Muchis (Arsinoites), written in 223 B.C., with translation, full commentary and reproductions.
P.Cairo box nr. 3732: lista di persone
di Marwa M.E. El-Alfy
pagine: 4
€ 6,00
Abstract ∨
Edition of a Greek papyrus (4th c. A.D., pro. unknow) containing a list of persons. Some are qualified as bouletai (two of them were already known), while some others are identified with the definition of their professional status (iatros, myropoles).
Chael e Severo in PSI Com. 11 2 (PSI inv. 534)
di Marco Stroppa
pagine: 20
€ 6,00
Abstract ∨
PSI Com. 11 2 (= PSI inv. 534) contains a prayer for two prelates, Chael and Severus: they are identified, respectively, as the patriarch of Alexandria and the bishop of Antinoupolis, who lived in the 8th century. Therefore the papyrus was not written in the 6th cent., as it was previously believed. In the Appendix P.Berol. Inv. 17612 is reexamined leading to a new dating for the find, 10th cent. instead of 6th cent., as it was previously believed. Moreover, there is a new identification of the prelates mentioned in the prayers contained.
Note sul De exilio di Favorino (Pap. Vat. Gr. 11 verso)
di Walter Lapini
pagine: 17
€ 6,00
Abstract ∨
Textual and exegetical notes on Pap. Vat. Gr. 11 verso (FAVORINUS, De exilio 1, 1; 2, 3; 5, 2; 6, 1; 7, 1; 7, 2; 7, 3; 12, 1; 13, 2; 13, 3; 15, 2; 15, 4; 16, 5; 18, 4; 18, 5; 20, 5; 21, 1; 21, 3; 23, 1-2; 24, 3; 24, 4-5; 25, 3; 26, 5; 29, 1).
Edition von P.Vat.Copt. Doresse 5. Verkauf von Grundbesitz durch Taham an Kolluthos und Markos
di Hans Förster
pagine: 20
€ 6,00
Abstract ∨
A Sahidic text from Aphroditô (P.Vat.Copt. Doresse 5) provides evidence for the economic activities of the brothers Kollouthos and Markos. They are known from other Greek and Coptic documents and were important persons in Aphroditô around the middle of the 7th century A.D. A woman called Taham sells land, which she inherited from her late husband Markos, to the brothers.
Antinoopolis February 2014. Work in the So-Called Chiostro at the Church beside the Assumed Eastern Gate
di Peter Grossmann
pagine: 11
€ 6,00
Abstract ∨
Report of the spring season of excavation at Antinoopolis in 2014, directed by Rosario Pintaudi and sponsored by the Istituto Papirologico G. Vitelli - University of Florence. The season was short (only February 15 to February 28) due to the political troubles in Egypt, and again the site was found with numerous destructions of vandalism. The archaeological work focused on a large church beside the estimated location of the eastern gate of the city (church 2a), whose plan and architectural features can now be reconstructed. A plan of the church (fig. 1, state February 2014) is provided, as well as full photographic documentation.
I saccheggi della TT 181 (Nebamun e Ipuky) negli Archivi Varille dell'Università degli Studi di Milano
di Alice Maria Sbriglio
pagine: 38
€ 6,00
Abstract ∨
The paper presents a research about the TT 181 (Nebamun and Ipuky). Through the photographs of the Archive of Alexandre Varille now stored in Milan, it focuses on the plundering the tomb suffered between 1937 and 1942. Nineteen fragments of wall decoration were stolen and the author traces the location of thirteen of them in museums or private collections. The photographs of the French egyptologist, done partly before and partly after the lootings, allow to reconstruct most of the wall decoration.
Un curioso sarcofago semi-autentico a Firenze
di Gloria Rosati, Virginia Fileccia
pagine: 20
€ 6,00
Abstract ∨
First publication of a wooden coffin in the Egyptian Museum of Florence, Inv. Nr. 7244. Though heavily repainted in the 19th century, before it was bought by the Museum, its decoration matches with items dating from the late 21st dynasty. The inner decoration of the box-bottom is very similar to the one in a Vatican Museum coffin; the lid, especially its headdress with lotus flowers, is surely comparable with a coffin in the Museum at Asti (Inv. Nr. 93), which shows many similarities with the Florence one.
Labour, Handcraft and Profession in the Coroplastic Art of Graeco-Roman Egypt
di Nicola Bonacasa
pagine: 9
€ 6,00
Abstract ∨
During the last years, our intention was to investigate one of the most important aspects of the art of Graeco-Roman Egypt, and of Alexandria in particular: the realistic aspect, a novelty that has always been recognized in the workshops of Alexandrine art. The realism developed experimental themes and styles related to the expressive needs of certain classes. We can note the persistence in Egypt of themes and styles that it is possible to identify and trace from Hellenism until the production of Coptic cloths.
Demostene e Callimaco nel P.Lit.Lond. 108
di Rosa Otranto
pagine: 16
€ 6,00
Abstract ∨
The first roll of the Aristotelian Constitution of Athens (P.Lit.Lond. 131v) contains, on both recto and verso, four different texts: some accounts dated to 78/79 A.D., a rhetorical argumentum with notes on DEMOSTHENES, In Midiam 1-11 (P.Lit.Lond. 179), the Constitution of Athens (coll. I-II) and three narrow columns with annotations to CALLIMACHUS' first book of Aitia (P.Lit.Lond. 181). In what environment this papyrus was created and circulated? Are these literary texts somehow connected to each other?
I papiri e le fonti giuridiche pregiustinianee
di Gianfranco Purpura
pagine: 7
€ 6,00
Abstract ∨
Presentation of the two volumes aiming at both revision and integration of the juridical pre-Justinian sources (FIRA).
La papirologia giuridica in Italia dagli albori alla seconda guerra mondiale
di Marco Rolandi
pagine: 18
€ 6,00
Abstract ∨
At the end of the XIX century the rebirth of the studies of papyrology in Italy was due to a group of scholars of Roman law; of them, the pioneer was Vittorio Scialoja, who founded in 1888 the Bullettino dell'Istituto di diritto romano. Some years passed and in Milan, with the two jurists Pietro De Francisci and Guglielmo Castelli, the classicist Aristide Calderini started an important papyrological legacy. During the Thirties Italy guested two very important events: the Congresso Internazionale di Diritto Romano, and the Fourth International Congress of Papyrology.
Testi recentemente pubblicati