Annalinda Iacoviello
Titoli dell'autore
Su alcune terrecotte da Tell el-Maskhuta
digital
In this contribution, four terracotta statuettes from Tell el-Maskhuta are presented. In the first part, a Bes statuette, and a female head are described, whose meaning may be related to the Late and Ptolemaic Period domestic religious practices...
Piaghe d'Egitto. I dati archeologici e la loro elaborazione: una veduta d'insieme
digital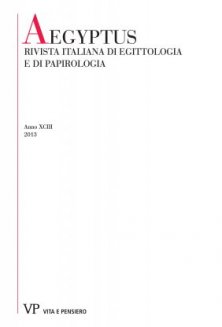 Within the framework of the PRIN project "the Seven Plagues", the Egyptological section, led by Giuseppina Capriotti, has identified, in the archaeological literature, traces of ancient catastrophes, both human and natural...
Consulta l'archivio
Ultimi 3 numeri
Annate disponibili online
Fascicoli anno
2022