Anna Di Natale
Titoli dell'autore
Osservazioni su alcuni restauri di papiri
digital
In this paper some of the conservation interventions will be discussed, highlighting how the operations performed are ineffective in slowing down the degradation process, which is the primary purpose of this intervention...
Il restauro del papiro di Djed-Khonsu-iuf-ankh I
digital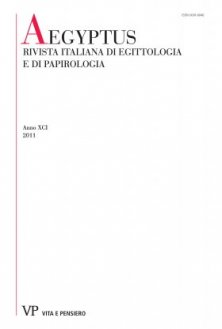 The papyrus, dated to the 21st Dynasty, has writing in hieratic on the verso and a text in hieroglyphics and coloured illustrations on the recto...
Restauro dei papiri e indagini preliminari agli interventi di restauro
digital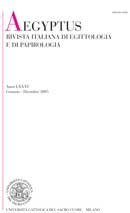 In questo lavoro sono trattati gli interventi di restauro conservativo eseguiti su un gruppo di papiri di grande formato, molto deteriorati e con danni d'acqua, conservati nel Museo Egizio del Cairo. Per applicare le metodologie più appropriate al fine di rallentare la degradazione dei papiri è stata effettuata una serie di analisi su frammenti già distaccati e non scritti. Tutte le analisi eseguite hanno confermato uno stato di ossidazione dei papiri. Vengono descritti i trattamenti di restauro eseguiti.
Consulta l'archivio
Ultimi 3 numeri
Annate disponibili online
Fascicoli anno
2022