Matilde Fiorillo
Libri dell'autore
La produzione tessile nell'Arsinoites romana: professioni e artigiani
digital
formato:

Articolo

| AEGYPTUS - 2017 - 1
The study deals with the textile handcraft in the arsinoites nomos during the roman age on the basis of the papyrological documentation. the first part of the paper presents a survey of the terminology of textile crafts, with the discussion of some problematic cases...
Il progetto "Digital Prosopography of Roman Egypt"
digital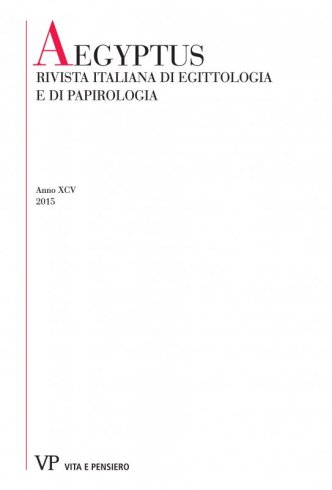 formato:

Articolo

| AEGYPTUS - 2015 - 1
This paper presents the aim and the features of the "digital Prosopography of roman egypt" project (dPre), with a focus on methods and problems of the prosopographical research and cataloguing. Some of the most important prosopographical publications about roman egypt are listed in the bibliographical appendix to the paper...
Consulta l'archivio
Ultimi 3 numeri
Annate disponibili online
Fascicoli anno
2019