Pamela Tedesco
Titoli dell'autore
Tre lettere di Giuseppe Passalacqua a Daniello Berlinghieri
digital
Giuseppe Passalacqua conducted some excavations in Egypt collecting a lot of antiquities, that he brought along to Paris. There he exhibited them, waiting for a convenient purchase offer. Thanks to three letters, filed in the Biblioteca degli Intronati in Siena, we learn that Passalacqua invited the ambassador of the Grand Duke of Tuscany, Daniello Berlinghieri, to admire his collection and to attend the opening of his mummy, hoping he would recommend to the Grand Duke purchasing his Egyptian antiquities...
Joseph Passalacqua: gli anni triestini ed egiziani
digital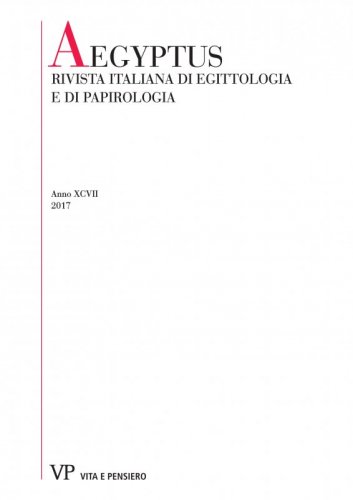 Joseph Passalacqua (trieste 1797 - Berlin 1865) left his native city in 1820, spent six years excavating in egypt, exhibited his egyptian antiquities collection in Paris in 1826 and became the first director of the egyptian museum of Berlin...
Consulta l'archivio
Ultimi 3 numeri
Annate disponibili online
Fascicoli anno
2022