Vita e Pensiero
Posting a Public Notice on Papyrus: A Frequent Phenomenon?
digital
Public notices were frequently posted in the cities, towns, and villages of Graeco-Roman Egypt. The available data makes it possible to answer several questions related to this topic: What material was used for posting notices? Did the authorities issue any instructions on the format of public notices? For how long should a notice be posted?
Aurelia Isidora, esposa, madre, ματρῶνα στολᾶτα, viuda y ἐπακολουθήτρια: el "cursus matronarum" de una mujer de Oxirrinco (P.Oxy. VI 907, 276p)
digital
This paper aims to bring to light the figure of Aurelia Isidora through a detailed reading of the will of her husband Aurelius Hermogenes, preserved in an Oxyrhynchus Papyrus. It shows the local and Roman ways of life of a well-to-do Oxyrhynchus family, the concern of the deceased for his wife and children, but it is also a documentary example to study and analyse the life of Roman women at all stages of their lives...
Un inatteso ritrovamento: un lotto di corrispondenza inedita indirizzata ad Aristide Calderini
digital
A few months ago, I acquired a relatively large batch of correspondence addressed to Aristide Calderini by some of the most important scholars of the ancient world active in the first half of the twentieth century. Since the letters widely account for Calderini's activity as di rector of «Aegyptus», this review immediately appeared the most suitable place to announce the unexpected discovery...
Tre lettere di Giuseppe Passalacqua a Daniello Berlinghieri
digital
Giuseppe Passalacqua conducted some excavations in Egypt collecting a lot of antiquities, that he brought along to Paris. There he exhibited them, waiting for a convenient purchase offer. Thanks to three letters, filed in the Biblioteca degli Intronati in Siena, we learn that Passalacqua invited the ambassador of the Grand Duke of Tuscany, Daniello Berlinghieri, to admire his collection and to attend the opening of his mummy, hoping he would recommend to the Grand Duke purchasing his Egyptian antiquities...
Strumenti musicali greci di origine orientale
digital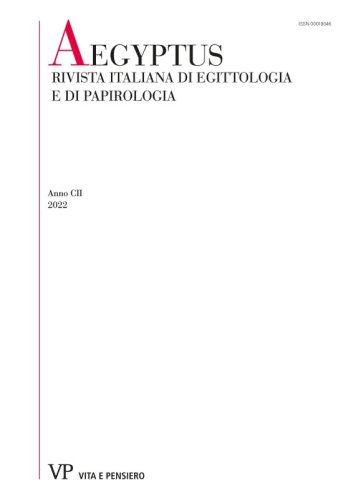 Alongside the traditional tripartite division of musical instruments into wind, string and percussion instruments, in ancient times there were other classification criteria for musical instruments, one of these, attributed to Aristoxenus of Taranto, was the one that saw the instruments divided into instruments natives and instruments of foreign origin, later became part of the Greek musical tradition...
Strumentai nell'antica Grecia
digital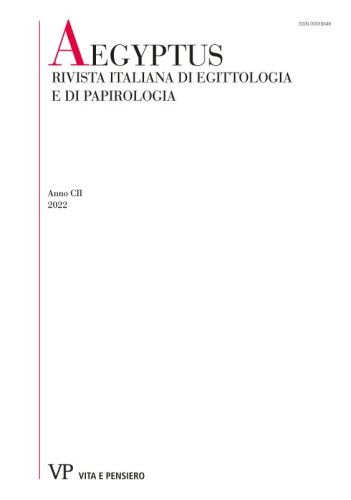 Musical instruments have been and are the object of interest and study for their functioning and their sound characteristics. Much less known is the figure of the maker of musical instruments. Musical instruments, especially stringed and wind instruments, were complex and sophisticated products as they were composed of several parts assembled together, and were manufactured by skilled craftsmen in specialized workshops...
L'aulo tra voce e silenzio
digital
The music-silence dichotomy, also extended to musical instruments, was already known in the ancient world. In the musical technical lexicon of the ancient Greeks, alongside the numerous words used to indicate harmonies, musical instruments, sounds, etc., there are as many that indicate 'absence', 'deprivation' and which refer to music, words, musical instruments, terms that therefore indicate a deliberate or even forced silence...
Padre ma non padrone. Una sententia di Bruto e un equivoco di Plutarco (Cic. ad Brut., 1, 17, 6 = Plut. Brut., 22, 4)
digital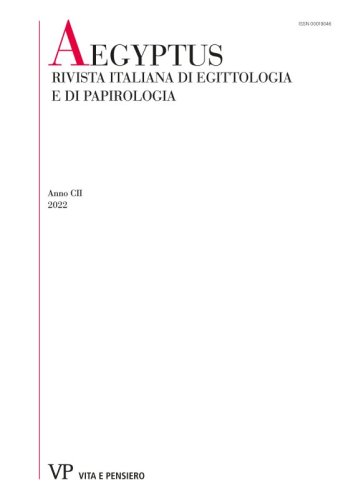 This article analyzes the Greek version of a sentence by Brutus (PLUT. Brut., 22, 4) and comes to the conclusion that Plutarch misunderstood the Latin text (reported by Cic. ad Brut., 1, 17, 6: dominum ne parentem quidem maiores nostri voluerunt esse) perhaps due to the influence of the political propaganda of the Flavian age...
AEGYPTUS. Abbonamento annuale 2023
digital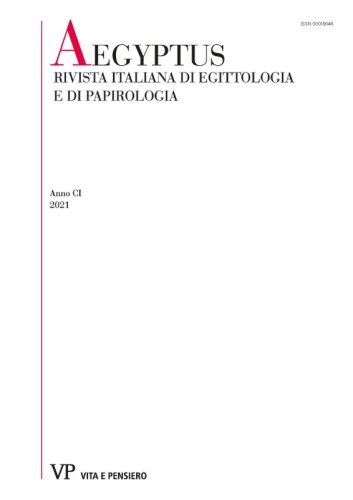 Abbonamento annuale alla rivista AEGYPTUS
AEGYPTUS - 2021 - 1
digital
Fascicolo annuale del 2021
Cession of a Pastophorion in the Tebtunis Temple
digital
Contratto di affitto di terreno
digital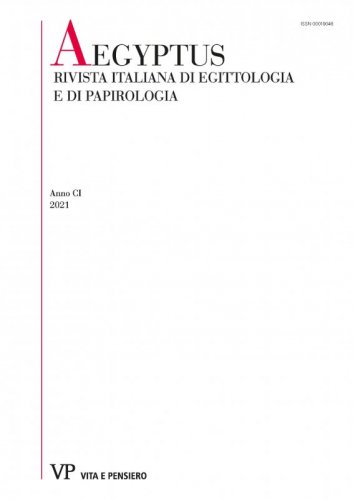 Consulta l'archivio
Ultimi 3 numeri
Annate disponibili online
Fascicoli anno
2022